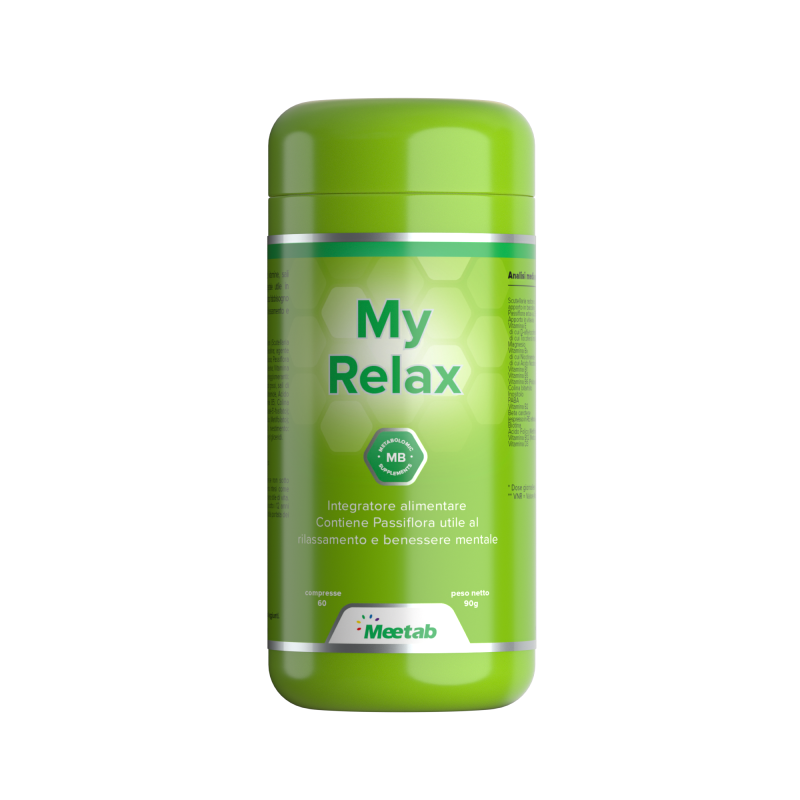  
My Relax
Supplement based on vitamins, minerals and other substances of plant origin like Passion Flower.
FORMULA AND INGREDIENTS
Analysis for 1 tablet (daily dose)
mg
NRV*
Scutellaria root d.e.
300 
 
Intake in baicalin
90
Passiflora herbe d.e. 3.5%
250

Contribution in vitexin

8,75
Vitamin E
60
500%
 of which D-alpha-tocopherol
 42
 of which natural mixed tocopherols
 18
Magnesium
60
16%
Vitamin B3
35
219%
 of which Nicotinamide
 30
 
 of which Nicotinic Acid
 5
 
Vitamin B1
25
2273%
Vitamin B5
5
84%
Vitamin B6 (Pyridoxal-5-phosphate)
5
357%
Choline bitartrate
5
 
Inositol
5
 
PABA
 
Vitamin B2
4,8
343%
Beta carotene
1,5
 (expressed in RE: equivalent retinol - Vit. A)
 250 RE
 
Biotin
0,2
400%
Folic Acid (methylfolate)
0,1
50%
Vitamin B12 (Hydroxocobalamin)
0,016
640%
Vitamin D3
0,025
500%
* VNR = Nutritional Reference Value.
Ingredients: Magnesium bislycinate; Scutellaria (Scutellaria baicalensis Georgi) root d.e. titrated 30% Baicalin; bulking agent: microcrystalline cellulose, cellulose gel; Passiflora (Passiflora incarnata L.) herb d.e. titrated 3.5% vitexin; Vitamin E (D-alpha-tocopherol, natural mixed tocopherols); anti-caking agents: silicon dioxide, mono and glycerides of fatty acids, magnesium salts of fatty acids; Vitamin B3 (Nicotinamide, Nicotinic acid); Vitamin B1; Vitamin D3; Vitamin B5; Choline bitartrate; Inositol; PABA; Vitamin B6 (Pyridoxal-5'-phosphate); Vitamin B2; Betacarotene; Biotin; Folic Acid (Methylfolate); Vitamin B12 (Hydroxocobalamin), glazing agents: shellac, acetic acid esters of mono and glycerides.
DIRECTIONS FOR USE
Directions: Take one tablet daily
WARNINGS
Do not exceed the recommended dose unless advised by a doctor. Supplements are not intended as a substitute for a varied, balanced diet and healthy lifestyle. A doctor's advice is recommended for use during pregnancy, lactation or under 2 years. Keep out of reach of children under 3 years of age.
Data sheet
Quantity

60 Tablets

Net Weight

72 g

Ministerial Code

66931-12/7/2021

Size

Tablets
 Reviews (0) - Review moderation 
---
There are no reviews for this product yet.
Customers who bought this product also bought: