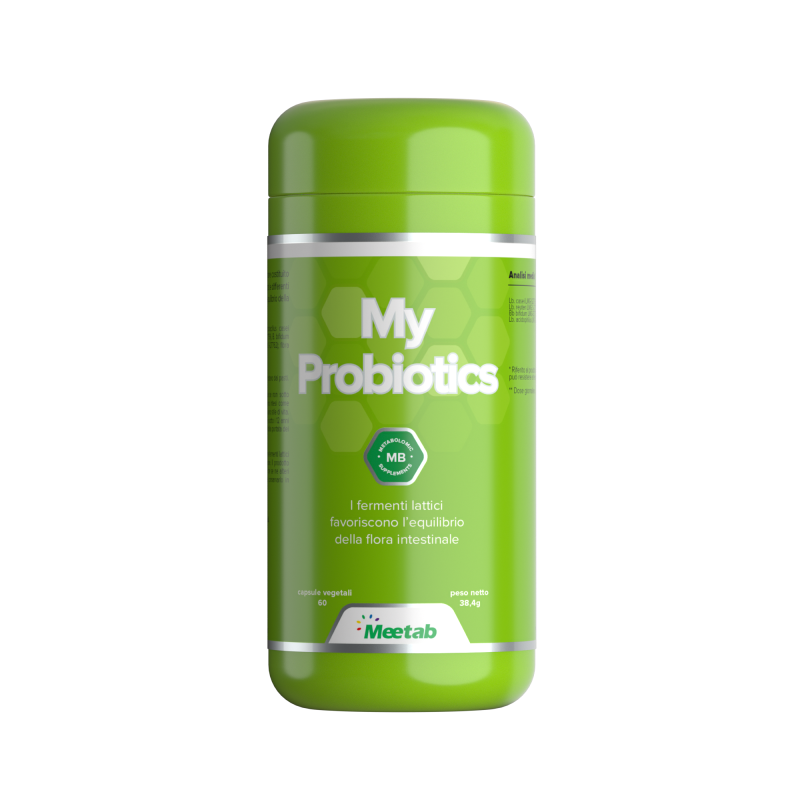  
My Probiotics
Probiotics containing 60 billions CFU and has more than 35 strains per capsule that can be stored even at room temperature.
My Probiotics is a supplement of probiotics containing 60 billions CFU per capsule and has more strains (35) than any other similar supplement on the market. It can be stored even at room temperature. Probiotics are fundamental for the good balance of your intestinal flora.
FORMULA AND INGREDIENTS:
| | |
| --- | --- |
| Component Quantity for 1 capsule (daily dose) | mld |
| Lb. casei LMG-S27763 | 1 |
| Lb. reuteri LMG S-27759 | 1 |
| Bb bifidum LMG-S27761 | 1 |
| Lb. acidophilus LMG-S27762 | 1 |
Ingredients:  Lyophilized kefir grains, Lactobacillus casei (LMG-S27763), Lactobscillus reuteri (LMG S-27759), B. bifidum (LMG S-27761), Lactobacillus acidophilus (LMG S-27762); Inulin, acacia fiber, hydroxypropylcellulose
DIRECTIONS FOR USE
1 capsule daily
WARNINGS
Do not exceed the recommended dose unless under medical advice.
Dietary supplements are not intended as a substitute for a healthy and balanced diet.
For use during pregnancy, lactating or under the age of 12 we recommend the advice of a doctor.
Keep out of reach of children under 3 years of age.
This product contains no sugar or artificial sweeteners.
STORAGE
The product contains alive lactic ferments and bifidobacteria and is therefore sensitive to heat. The product can withstand temperature without altering its effectiveness, but once opened it is preferable to keep it in the refrigerator at a temperature of 2-8 degrees.
Data sheet
Quantity

60 vegetable capsules

Net Weight

38,4 g

Ministerial Code

115919/13-11-2018

Size

Vegetable capsules
 Reviews (10) - Review moderation 
---
Κάνει την δουλεία του σωστά!
    
Το προϊόν το παίρνω καθημερινά για 3 μήνες περίπου και έχω ηρεμήσει αρκετά, από πόνους και πρηξίματα!
By Dimitris T. the 2016-05-05
By Ελενη Μ. the 2016-03-16
Απο τα καλύτερα προβιοτικα
ΠΟΛΥ ΚΑΛΟ ΠΡΟΙΟΝ. ΕΙΝΑΙ ΚΑΙ ΠΟΛΥ ΚΑΛΟ ΣΤΗ ΣΥΝΤΗΡΗΣΗ
By Maria X. the 2015-11-17
One of the best probiotics I've tried!
By ΑΛΕΞΑΝΔΡΟΣ Λ. the 2015-11-17
Customers who bought this product also bought: